Victims' Remembered
Victims and those who serve them honored at Gulfport ceremony – Published in the Sun Herald
Gulfport ceremony marks National Crime Victims' Rights week
By PRISCILLA LOEBENBERG — Special to the Sun Herald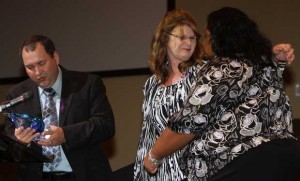 GULFPORT — The family of murder victim Stacey Wright led a candle-lighting procession Thursday in observance of National Crime Victims' Rights Week at First Baptist Church. The occasion was further marked by messages of hope and healing from leaders who have shared in tragedies caused by the actions of criminals.
Each year in April, one week is designated to promote victims' rights and honor crime victims and those who advocate on their behalf.
State Rep. Sonya Williams-Barnes was born into the funeral home business and has worked with grieving families as a way of life. But it wasn't until her own brother Theodore R. Williams III was murdered that she truly understood how grief can be "a plague." She said the news "chilled my soul and changed my life forever."
Williams-Barnes said she spent more than a decade holding on to hate and a desire for revenge until she came to accept that forgiveness was the only way she could move forward. She said the "burden of hate" held her back from becoming the person she knew she could be, including a better mother and friend.
"Forgiveness is a gift only you can give yourselves," she said.
The 2013 Law Enforcement Award was presented by District Attorney Joel Smith to D'Iberville police Sgt.
Marty Griffith and Joel Wallace of the Mississippi Bureau of Investigation for their collaborative effort in bringing Stacey Wright's killer to justice. Smith also presented a Community Service Award to the Junior Auxiliary's provisional class for its work in creating a Safe Harbor children's room at the District Attorney's Office.
"On a weekly basis, brave children come there to accomplish an awful task," Smith said. The room allows the young victims and witnesses of violent crimes a safe and comfortable place to deal with horrible experiences.
At the end of the service, a surprise award was given to Franchelle Daniels, the DA's victim-assistance coordinator.
Diamondhead Police Chief Alan Weatherford and wife Barbara, who lost their daughter, DeAnna Tucker, to a drunken driver in 2011, presented Daniels with a blown-glass teardrop inscribed with the words "A teardrop on earth summons the kingdom of heaven."
Weatherford, who was the Gulfport chief when Tucker was killed, said a tremendous amount of tears were shed in the DA's office by his family and many others.
Daniels, he said, was always there with limitless compassion and her own tears for the victims and their families.