Sea Turtle Release
Healed sea turtles blessed and released in Pass Christian – Published in the Sun Herald
By PRISCILLA LOEBENBERG — Special to the Sun Herald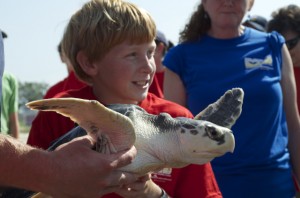 PASS CHRISTIAN — Six rehabilitated sea turtles were released Saturday by Institute for Marine Mammal Studies employees and volunteers after receiving a blessing by the Rev. Louis Lohan. Groups including local science fair winners, waded out from the Pass Christian beach carrying the juvenile green turtle and five Kemp's ridley sea turtles to set them free.
All of the turtles were rescued in 2012 and treated at IMMS for serious injuries. One turtle, named Chipper after the Pass Christian Mayor Chipper McDermott, is outfitted with a satellite transmitter so its movements can be tracked. Chipper's journey is being mapped on the IMMS website for all to see. The other Kemp's ridleys are Sunshine, Garfield, Nicky and Diva. The green sea turtle is Greenie Beanie.
"The Kemp's ridley is the most endangered of all sea turtle species," IMMS President Moby Solangi said.
Solangi said the turtles live a long life, 70 to 80 years, and by the time these six turtles came to IMMS they had already experienced thousands of challenges to their survival. The Kemp's ridley species had been experiencing a recovery from near extinction prior to the BP oil spill three years ago. Researchers are trying to determine how much of a setback the oil might have caused.
"They depend on the Mississippi Sound for their development," said Andy Coleman, senior scientist and turtle ecologist with IMMS.
Coleman said it is peak stranding season for sea turtles. IMMS asks people to call the IMMS stranding hotline, 1-888-SOS-DOLPHIN (1-888-767-3657), if they observe any stranded sea turtles, sea turtle nesting activity or incidentally captured sea turtles on fishing piers or boats. He said the species released Saturday don't normally nest on the local beaches, but several loggerhead sea turtle nests were found in 2012.
Coleman and Senior Research Scientist Jonathan Pitchford have initiated a study to examine the potential benefits artificial reef and oyster habitats provide to Kemp's ridleys and one of their favored prey — blue crabs.