Time Served
Time Served: Chief leaves Gulfport after taking department into a new era – Published in South Mississippi Living
Story by Priscilla Loebenberg
Photos by John Stricklin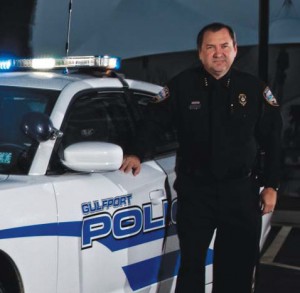 After three decades serving the people of Gulfport and making the police department one of the most modern and successful in the region, Police Chief Alan Weatherford hung up his Gulfport uniform and exchanged it for a Diamondhead uniform. This dedicated, experienced law enforcement official has become the police chief of Diamondhead, Mississippi's newest city.
Weatherford was born into a legacy of public service, his father having been a Gulfport firefighter for close to 40 years. The chief was 14 when he started doing ride-alongs with the Harrison County Sheriff's Office as a member of the Junior Auxiliary.
"It got in my heart," said Weatherford. "It's in my blood."
One of his early role models was the late Capt. Joe Moore.
"He wasn't a big, bad, mean policeman," said Weatherford. "He was everybody's friend. I knew early on that's what I wanted to be."
Weatherford joined the Sheriff's Office in 1984 as a dispatcher at the age of 18 and joined the Gulfport Police Department in 1987. He rose through the ranks to become chief in 2006. He undertook extensive law enforcement training, including graduating from the FBI National Academy, and received numerous awards for his service.
"I always tried to treat people, even those I was arresting, with dignity – like I would want a member of my family to be treated," said Weatherford.
After Weatherford became Gulfport chief, the city saw a significant decrease in crime despite economic difficulties that caused a reduction in personnel. Violent crime was almost cut in half and property crime dramatically reduced. A recent independent review by Municipal Consulting Services recognized the department as "one of the most progressive and technologically advanced police departments in the region."
Under Weatherford's leadership, the department instituted the GAPS (Gulfport Alternative Policing Strategy) Program. Under GAPS, the department utilizes timely and accurate reporting of criminal activity to respond with flexibility to major and minor criminal trends.
The chief is quick to spread the credit around to the entire Gulfport team and is confident the remaining leadership will continue to move the department forward. He said the key for his successor is to remember to listen to people and address their concerns. Taking care of quality of life issues, such as noise complaints, helps build a foundation of trust, he believes.
"If you don't have trust in a community, it's hard to be successful at policing that community," he said.
Deputy Chief Leonard Papania said Weatherford took his responsibility to the people of Gulfport seriously and demanded the same from those under his command. "He did it not for his own fulfillment but for the community he served," said Papania. "He was a model of accountability."
Gulfport Mayor George Schloegel praised Weatherford for representing the best of a youngster who rose to the pinnacle of government leadership in his native community. "From a little child graduating from Head Start to completing the most rigorous FBI Academy training, he peddled his bicycle around city streets and went on to drive all of those same streets courageously protecting our citizens 24/7," the mayor said. "Chief Weatherford will long be remembered as a leader who worked his way up through the ranks remembering who he was and where he started."
In addition to his new duties in Diamondhead, Weatherford's priority is spending time with his family. "Police work is hard on a family," he said. "My family has always been a priority, but it is even more so now."
In March 2011, Weatherford, who had once been a DUI officer, received the tragic news that his daughter, DeAnna Tucker, was killed by a driver under the influence. Tucker, weeks away from her wedding, was putting her son into the back seat of her car in the parking lot of a bridal boutique when she was struck. Weatherford, who has always been an advocate of MADD (Mothers Against Drunk Driving), will keep up his support.
"I will continue to be a very strong voice; not just for DeAnna, but for all the victims along the Coast."