BP oil rig disaster
South Mississippi coalition recalls oil rig disaster, calls for inclusion in RESTORE money – Published in the Sun Herald
By PRISCILLA LOEBENBERG — Special to the Sun Herald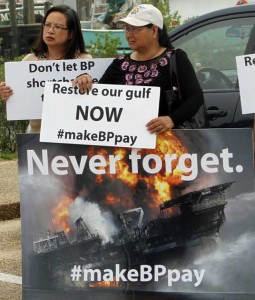 BILOXI — Residents and community leaders used the anniversary of the BP oil disaster to call on officials to use local workers for RESTORE Act projects.
The group gathered Tuesday at the Lighthouse Fishing Dock to remember the 11 men who lost their lives April 20, 2010, in the Deepwater Horizon explosion.
Faith-based, conservation and community groups also called for "a seat at the table" in determining how RESTORE Act money will be allocated.
Raleigh Hoke of the Gulf Restoration Network announced the release of a document endorsed by 45 organizations, the Gulf Future Guidance for Sustainable Restoration, that lays out the coalition's shared priorities and guidance for the members of the Gulf Coast Ecosystem Restoration Council and Gulf states.
"BP must be held fully accountable for the maximum fines allowed under the law," Hoke said. "Once these billions of dollars start flowing to the Gulf through the RESTORE Act, the vast majority of these funds should go towards restoring the long-term health of the Gulf's natural resources."
Thao Vu, of the Coalition for Vietnamese-American Fisher Folks and Families, said fishermen should be tapped to work on restoration projects.
"It's important to make this a more open process," Vu said. "Not top down, but community driven."
The impact of the oil spill has been more fundamental for poor and minority residents and working families, said Roberta Avila of the STEPS Coalition, particularly the Vietnamese-Americans who define themselves personally and culturally by living and working on the water.
Terese Collins of Gulf Islands Conservancy reminded people damage from the oil spill continues. She said 256 dolphins and whales have died since 2010, compared with an average of 20 per year prior to 2010.
"We need to know why these animals are still dying," she said.