Seashore Highlands
Seashore retirement homes head for the Gulfport highlands — Published in the Sun Herald
Methodist Senior Services builds assisted living facility north of I-10
By PRISCILLA LOEBENBERG — Special to the Sun Herald
GULFPORT — Seven years after Hurricane Katrina displaced 231 elderly residents by destroying the Methodist Senior Services apartments in Biloxi, the organization has built a state-of-the-art compound on higher ground in Gulfport. The new property, north of Interstate 10 and just off Mississippi 605 with an entrance on Lorraine Road, will hold a ribbon-cutting today at 4 p.m.
The original Biloxi homes were at Seashore Manor, Gulf Oaks Manor and Seashore Personal Care. Residents there who did not relocate with their families were evacuated to MSS Tupelo properties.
The new 20-acre compound goes by the name Seashore Highlands and includes assisted-living housing called The Cove, and independent living duplexes called The Villas. Under construction is Green Home, which allows up to 10 residents to live family-style in a home environment.
The old site is now a condo complex called Seashore Oaks and is not affiliated with MSS.
The first resident to move into The Cove at Seashore Highlands three weeks ago was Leona B
renot, one of the original Biloxi evacuees. She has been living in Tupelo for the last seven years and could not wait to get back home. She was thrilled with her new accommodations, which she said were better than Tupelo and vastly better than Biloxi.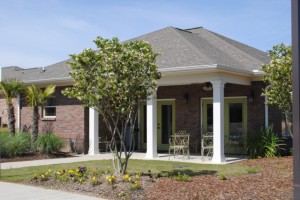 "There is no comparison," she said.
Seashore Highlands Director Beth Joachim said t
he new buildings are all one-story because that was important to the residents. The C
ove has 50 suites with living, sleeping and dining areas as well as community dining, a salon and other amenities.
The Villas are duplexes; the first five of 30 planned units are built. The first Green House is under construction and administrators hope there will be a demand for several more.
The Green House is a cutting-edge concept developed by MSS, Joachim said. The home is designed to de-institutionalize elder care and create a family atmosphere for those in need of assisted living. The concept has been copied all over the c
ountry since the first Green House was built in Tupelo a decade ago.
MSS is a nonprofit founded by the Methodist Church that serves people of all faiths. The homes accept insurance but subsidize co
sts with charitable donations.
The $18 million community had significant support from the late philanthropic banker Leo Seal Jr. an
d his wife, Susie Pringle Seal, and from the Katrina Hurricane Relief Fund administered by the Gulf Coast Community Foundation.