Sail Away
Gulfport priest retires after 44 years as pastor – Published in the Sun Herald
By PRISCILLA LOEBENBERG — Special to the Sun Herald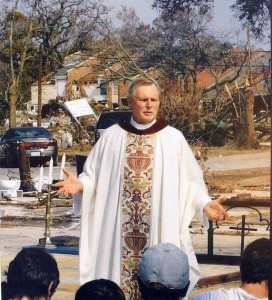 GULFPORT — The Rev. James "Bo" Roberts oversaw the rebuilding of his church and congregation from two major hurricanes.
Just four months after Roberts became rector of St. Mark's Episcopal, the church was knocked off its foundation by Hurricane Camille. In 2005, Hurricane Katrina, destroyed the building.
Wednesday was Roberts' first day of retirement after 44 years as pastor.
"Two times, he put the church on his back and carried it," said John Harral about the rector's determination in getting the church rebuilt after the hurricanes.
Harral said Roberts has increased membership 800 percent over the years.
"It is impossible to overstate the importance Bo has had in the history of St. Mark's Episcopal," he said.
Patti Sneed, who served as organist from 1973 to 2009, described Roberts as nearly omniscient when it came to keeping track of his flock. She said members could ask him anything, from the status of a sick friend to where to find the church vacuum cleaner, and he always knew the answer.
Sneed said Roberts was always the "go to" guy but there was one challenge that always confounded him. Despite being punctual to a fault, he could never seem to get the 9:30 a.m. service to start on-time.
She said it was kind of a joke among the congregation that the 9:30 service really started at 9:35 because someone else was always late or had other business to see the rector about just as the service was set to start.
Although parishioners said Roberts is immensely respected, he is also known as a practical joker.
Bishop Duncan Gray found himself a frequent target.
After having his sermon disappear "mysteriously" just before a service, the bishop learned to keep it in his pocket. Roberts also made up a fake birth certificate taking 10 years off his age to temporarily try to convince Gray he wasn't old enough to retire yet.
"The church is a serious business, because it deals with people's soul," Roberts said. "But at the same time, it is a joyous business and there is fun to be had. We try to balance the one with the other."
Roberts said his retirement is a time of mixed emotions.
"You are pleased to think you have finished your course," he said. "But on the other hand, I have been ordained for 47 years. So, I don't know what else to do but get up and go to work."
Roberts and his wife, Pam, plan to spend more time traveling. They plan to take their sailboat to Captiva Island and other locations. Roberts said he will continue to give occasional sermons in different Episcopal churches when there is a vacancy.
St. Mark's new rector will be Stephen Kidd, who Harral said is a young priest with children.
Roberts said if he could offer any advice to Kidd it would be "work hard, love them strong, accept what they will give to you.
"It's a grand congregation that will accept him and love him as soon as they get to know him," Roberts said.