Safe Harbor
A safe place for courage to grow – Published in South Mississippi Living
Story by Priscilla Loebenberg and Photos by Barbara Allen and Safe Harbor
Harrison County District Attorney Joel Smith and his staff spend a significant amount of time every week with children who are the victims of or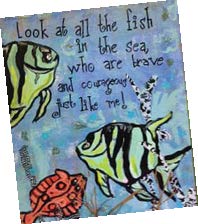 witnesses to horrific acts of violence and abuse. Because the time spent preparing for trials is so emotional, the DA's office saw the need for a comfortable and kid-friendly environment to help ease the stress. They decided to turn a lifeless office space into the new Safe Harbor Children's Waiting Room.
The Safe Harbor room is colorful and comfortable and functions for both toddlers and teens. An André Gide quote fills the border around the ceiling, "You can never cross the ocean unless you have the courage to lose sight of the shore."
Smith said his office came up with the idea for the room, but the successful implementation is due entirely to the volunteers who "took the ball and ran with it."
Julie Krohn, as part of the Junior Auxiliary of Gulfport's provisional class, took the lead on the project after the class' unanimous vote. "We chose it because we felt it was going to make a difference in the lives of children today and for years to come," said Krohn.
The group decided to stick to a coastal décor "because it should feel like home." They secured donations of furniture, accessories, books and toys. "But, the real theme here is courage," Krohn said.
One piece of art in the room is especially significant because it's a work in progress by the children. Near the exit is a fish in which the scales are made from children's fingerprints. Each child who passes through the room leaves fingerprints to support the next child.
"They leave their mark to say 'this experience will be over and you can start anew,'" said Krohn.
For their work on the room, the group was surprised with a community service award on April 25 during National Crime Victims' Rights Week. Each year in April, individuals, teams, programs, and organizations demonstrating outstanding service in supporting crime victims and victim services are recognized all across the country.