Letters of Hope
Former South Mississippi woman bringing letters of hope to Moore, Okla.– Published in the Sun Herald
By PRISCILLA LOEBENBERG — Special to the Sun Herald
Chanell Alaniz is on a mission to spread a little bit of hope to the people of Moore, Okla., where an EF5 tornado leveled homes and schools on May 21.
Alaniz is gathering letters of support from South Mississippi residents to share with teachers, students, first-responders and others.
Alaniz is no stranger to disaster-area living. She and her then-2-week-old son were living in Waveland when Hurricane Katrina came ashore there almost eight years ago. Now a resident of an Oklahoma City suburb near Moore, Alaniz is determined to do what she can to console and encourage her neighbors. A full-time student with few resources, she hopes the letters will make a contribution toward the healing of the community.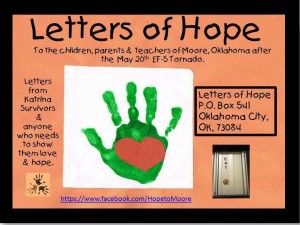 "There is this connection. And I really wanted to provide a way my friends and people who have been through Katrina and other disasters to communicate," Alaniz said.
After the massive twister killed 23, including nine children, three more tornadoes passed through the area on May 31, adding to the devastation that destroyed or damaged thousands of homes.
"Oklahoma City has really been good to me," Alaniz said. "I want to do something to help."
Alaniz said she hopes children, or young adults who were children at the time of Katrina, will write to the children of Moore. She plans to give the letters to Bible school teachers this summer and public school administrators in the fall to distribute as they see fit. She sees her role as just a delivery person.
"All I did was open a post office box," Alaniz said. But, she said she had already received a tremendous response from those told about the program.
Find Alaniz on Facebook at www.facebook.com/HopetoMoore or write to P.O. Box 541, Oklahoma City, Okla. 73084.