Natasha Trethewey
History of Native Guard's raid on Pascagoula preserved through historical marker  –  Published in the Sun Herald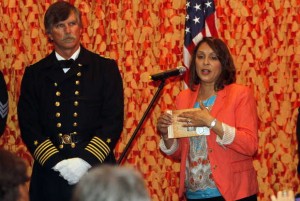 By PRISCILLA LOEBENBERG — Special to the Sun Herald
GULFPORT — African-American troops stationed at Ship Island during the Civil War were honored on Sunday by the United States Poet Laureate, community leaders and special guests at the Sesquicentennial Commemoration of the 2nd Regiment, Louisiana Native Guard's Union assault on Pascagoula.
The history of the Native Guard, which was once in danger of becoming lost, was engraved on a historical marker at the base of the lighthouse at Jones Park. The marker was revealed on Sunday, although rain pushed the ceremony indoors to the Almanett Hotel.
The marker describes the East Pascagoula Raid that took place 150 years ago — on April 9, 1863 — by the Native Guard, one of the first combat engagements by black Union troops and in the Civil War.
"History is such a wonderful thing, but something has to happen to bring it to light," said John Kelly, Gulfport's chief administrative officer.
The celebration was presented by the Native Guard Commemoration Committee, JZ 94.5 and Ship Island Excursions. Special guests included Gulf Islands National Seashore Superintendent Dan Brown, Civil War historian Bennie McRae and Natasha Trethewey, Mississippi poet laureate and the United States Poet Laureate.
Trethewey, a Gulfport native, visited Ship Island as a child but she did not learn the history of the island until adulthood, when a woman in a restaurant suggested she do some research. What she learned inspired her to write "Native Guard," for which she won the 2007 Pulitzer
Prize in Poetry. The collection weaves together the past and present by drawing on selections from the diary of Native Guard Commander Col. Nathan W. Daniels, honoring her late mother and painting a picture of her own upbringing as a multiracial child in the South.
In his diary, Daniels showed concern over how the black troops would be remembered, Trethewey said.
"I would tell him not to worry," she said, noting the years of work put into publicly resurrecting the history of the Native Guard. "I'm so proud."
Trethewey read selections from "Native Guard" that described the lives of black troops on Ship Island during the Civil War.
Louis Skremetta of Ship Island Excursions said Daniels, in his diary, called on former slaves to dare to be free and act as free men as they were "free men in the sight of Heaven."