16 Again
Veterans relive car memories at benefit car show in Biloxi–Published in the Sun Herald
By PRISCILLA LOEBENBERG — Special to the Sun Herald
BILOXI — When automobile-loving veterans can't go to the cars, Mississippi Beach Cruisers brings the cars to them. The club hosted the 12th annual Honoring Our Veterans Car Show at the Veterans Administration Medical Center on Saturday.
"We want to get the cars out for patients who can't get out and go to the car shows," Cruisers President Terry Ward said.
Many of the automotive fans received assistance from hospital staff to cruise around the parking lot and get close looks at the more than 130 cars on display.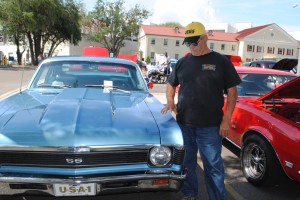 Ward said the number of registrants was down a little from last year — mostly because the original show date in May was rained out and warmer June weather is a little less desirable. However, he said the Cruisers still expect to raise more than $3,000 for Veterans Recreational Services.
Army veteran Gary Keller said he was checking out several vintage cars similar to models he had owned, including a 1966 GTO and a 1957 Chevy. However, he was still hoping to see a Plymouth Roadrunner before the day was over.
"I just like cars a lot," he said. "Some of these I saw sitting on the showroom floor the first time."
Many of the show participants brought out vintage cars, though the show was also open to newer models. Awards were given in several judged categories, as well as picks by the VA director and the VA residents.
Hank Boudreaux of Pass Christian brought his 1969 Chevy Nova to show. He said he was using his retirement to do what he loves.
"These cars make me feel like I'm 16 again," he said.